Memories of Rumi Tonai Uragami, 1927 - 2013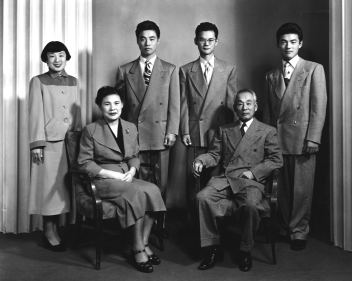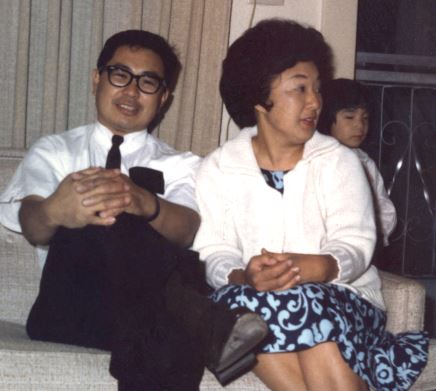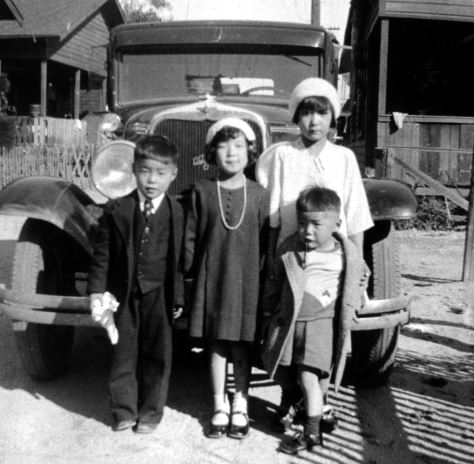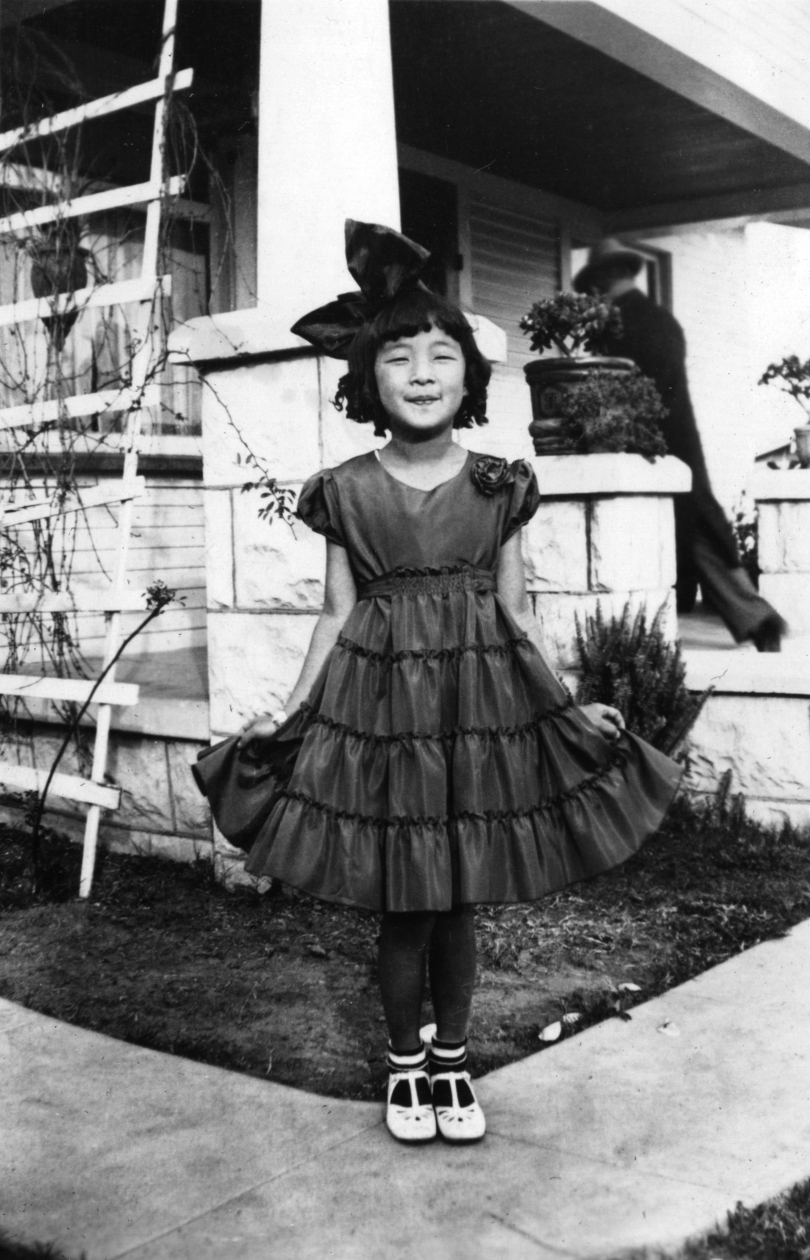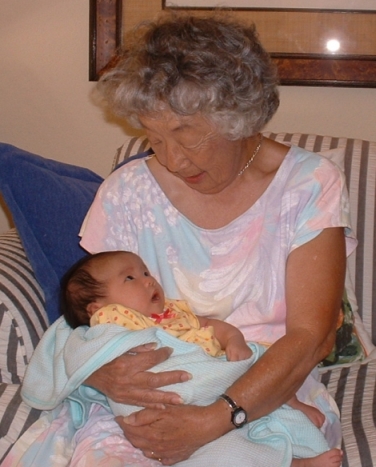 (from her obituary in the Los Angeles Times, June 16, 2013)
Rumi Uragami (85), passed away on June 5, 2013 at Keiro Nursing Home after a long illness. She is survived by her loving and devoted husband Robert
"
Bob
"
Katsumi Uragami, daughter Derry Kinuyo Pierson, and son Timothy
"
Tim
"
Eiji (Cynthia) Uragami. One of her twin daughters, Toni Toyone, passed away when an infant. She also leaves her younger brothers Minoru
"
Min
"
(Mary) and Yutaka (Mariane) Tonai and many cousins, nieces and nephews and other relatives in the US and Japan.
Rumi was born in San Pedro, CA on July 24, 1927, the second daughter of Gengoro and Toyone (Ohtsubo) Tonai, both deceased. Her older siblings were Mizuyo
"
Mary
"
(Naotoshi) Otsubo and Ichiro (Grace) Tonai (all deceased). She lived in Terminal Island, San Pedro, Seinan District of LA, Santa Anita Assembly Center, Amache Relocation Center and finally, Costa Mesa, CA where she and Bob lived happily together for the last 52 years.
Memories from Niece Susan Tonai
Oddly, I don't actually remember my first personal remembrance. And it's not because I have such a poor memory. It's just because it occurred before I was one year old. The memory goes back as far as I can remember, but it's actually the story (gleefully recounted many times) that I remember. Apparently when I was born, Dr. Spock, the pop pediatrician of the day, wrote a book and said that babies should be fed on a strict timetable in order for them to grow up well adjusted. Of course, my parents wanted that, so strict it was. This distressed Rumi to no end, as she claimed that my incessant crying was simply the result of being hungry. So under the guise of baby-sitting, Auntie Rumi set out to rescue me from impending starvation. It obviously worked. As for being well-adjusted, well, that's debatable and I'm not sure who to blame there.
I have so many fond memories of Rumi and I'm sure all of you have many of your own. I don't know of any other Auntie Rumis and it's probably because she truly was one-of-a-kind with a bigger than life personality and an even bigger heart.
To properly describe Rumi, you just have to use the word "amazingly" in front of every adjective.
Friendly-amazingly friendly. When you met Rumi, she just didn't say "hi" and shake your hand. Instead, her eyes would twinkle and then she probably also gave you a wave, a curtsy or even a silly little dance. When I was in high school and she'd meet my friends, she'd always say "Hi, I'm Auntie Rumi—I'm Susan's favorite Aunt. You can call me Auntie Rumi." Well, she was everyone's favorite Auntie Rumi.
Cheerful and expressive-amazingly cheerful and expressive. She must have been the model for the smiley face and all his emoticon cousins. Even when she wasn't pleased, somehow the funny face she made and her lively demeanor, just made you smile (at least afterwards).
Amazingly creative and handy. Rumi loved making things and sharing them with others. Sweaters, costumes, clothes, pot-holders, origami, children's games, you name it, she made it.
Enthusiastic and energetic. This was truly amazing. When she did something, it was over the top amazing. For example, Rumi loved to knit. And knit she did. I'm sure she made hundreds of sweaters. As a child I didn't think twice about the fact that wherever she went, Rumi always had a very large purse and could knit and carry on a conversation without pause, no matter where she was. It wasn't until later that I realized she was really the ultimate multi-tasker and her "purse" was actually a piece of Samsonite luggage.
Eventually, her love for knitting sort of morphed into origami. And, these were not just the usual cranes made out of colored paper. She would collect books (an amazing amount of books!) with the intricate designs which she loved and cranked out folded paper creations in massive quantities. (All while carrying on animated conversations, of course).
Curious. Rumi was amazingly curious. Everything fascinated her. I was fortunate enough to be able to tag along on one of her and Uncle Bob's trips to Japan. Rumi was a bit like a honey bee. Darting from one attraction to another, just curious to see what it might be. Sometimes, she'd just have to ditch Uncle Bob, because, as she explained (to everyone in Japan), "he's an engineer, he likes to go from point A to point B. I like to see everything." You can only imagine what it was like exploring a 7-story Japanese department store—complete with a full floor of fabrics, notions and crafts. We saw every square inch.
But those are all her outward charms. What made Rumi truly amazing was her inner character.
She loved people. She had an amazing love for people—all people--babies, kids, tall people, old people, her dog Charlie (he was a person too)--everyone. And she was generous. Amazingly generous.
Rumi and Bob's home was always open to everyone. Neighbors would pop in through the garage door and into the kitchen unannounced, but always welcome. (It was a little startling for me).
For kids, her house was really Camp Rumi. She was always teaching crafts to the neighborhood kids who naturally hung out at her house. When I was 7, I stayed at Camp Rumi for a week. I made a tile mosaic trivet, painful shell earrings and a rhinestone encrusted bag for my mother. I went to the beach, the county fair, and had sugarless bubble gum and fruit smoothies (which unfortunately, were not the Jamba Juice type—these were way too healthy). And every family party wasn't complete without "Auntie Rumi-style" Bingo-- with hand crafted bingo cards and kid-friendly images for the squares. All of us remember her gleefully calling out "black ball" and "little red wagon" before someone would shout out "Bingo" and claim their prize!
As you might expect, Rumi also volunteered at Derry and Tim's schools. When they were in high school, Rumi would be a good band mother and drive them to practice and competitions. But, as always, being the amazingly creative, over the top and somewhat zany band mom-- during parades, she would also walk alongside the band and dash in front of them to scoop up fresh horse poop so the band members wouldn't have to march through it. Auntie Rumi was the only person I ever knew who scooped poop in the Tournament of Roses parade.
Her sweaters were furiously knitted, but just as easily given away--to friends, relatives and those in need. She volunteered at the Cancer Society's Discovery Store and proudly bragged that only her Newport Beach store got donations of St. John suits and other designer clothing. All she had to do was fix a little rip or add a missing button.
Likewise, her passion for Origami was shared with others. She taught endless visitors to the Japanese American National Museum how to magically transform a simple piece of paper into a piece of art. Her presence helped bring the museum and a traditional Japanese craft to life.
Rumi's touched so many people and her influence and embrace extends far and wide, but for me,
I'm thankful,
forever grateful and
amazingly fortunate that I had an Auntie Rumi.
But she was Rumi to everyone.
Amazingly one-of-a-kind, very much missed and very much loved.