Home
Woodland Days and Tai Lee Laundry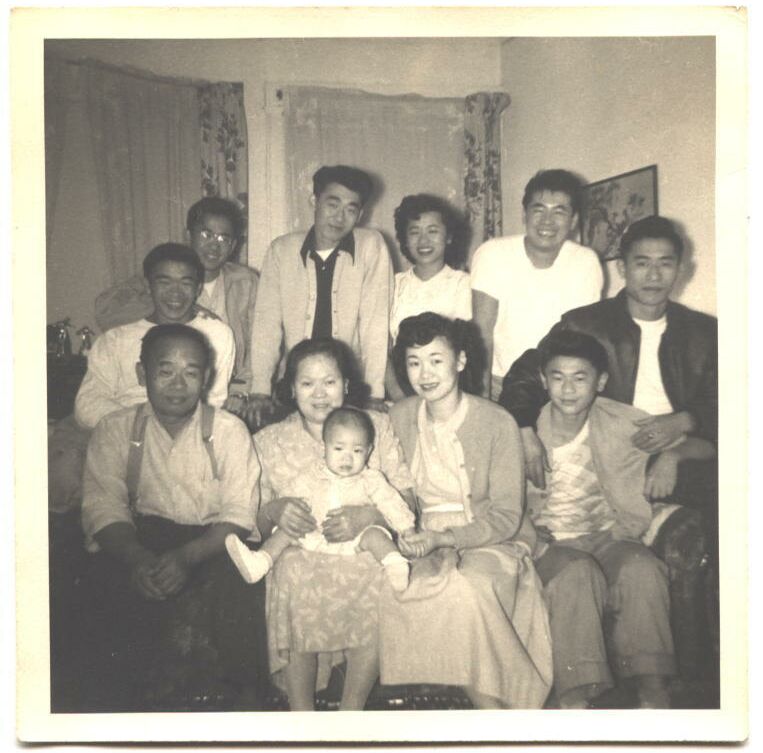 This is a thumbnail of one of the pages of Grandmother Lock Din's immigration record. It includes her photo and her "alleged husband," who in reality was her brother-in-law Doon Ho, whose real name was Gong Bow John. Click on the image to see a copy of the record.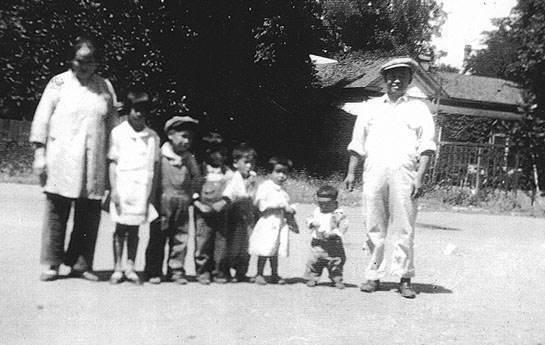 Find out more about the family in Woodland - click on this photo.
*If you don't have Acrobat Reader, visit the Adobe site to download the program so you can read these files.
The character for Gong, also Jiang in Mandarin, is ? - meaning large river. Go here for more information.
We now have the "A" files ("A" for Alien; read this NY Times article to find more about the files and the efforts to save them) from Angel Island for Grandfather Hew Din. It took over 15 years from the first time we looked for them; many requests to different federal agencies later, the Department of Homeland Security's United States Citizenship and Immigration Services office finally mailed a copy. Many pages were omitted due to privacy concerns for other parties mentioned in the file. Eventually, we will be able to see the actual files in the National Archives San Bruno branch.
We also have the Angel Island files for Grandmother Lock Din. She is known as Lock Shee - "Shee" was used by many women as a term for "Mrs." This Acrobat* file includes her application for admission, statements by her "husband" (actually her brother-in-law), and a transcript of the interrogation A man named "Doon Bo, her alleged brother-in-law," vouched for Lock Din. We don't know if he was an actual relative.
Here is a scan of the actual Certificates of Identity for Lock Shee, her brother-in-law Gong Bow John (paper name Doon Ho), and Ow Luen, the paper name for Grandfather Din (images of the back also available)
Ow Luen (Gong Bow Gwun) came over from China in 1912 on the SS Manchuria, which docked in San Francisco on August 15, 1912. He received his Certificate of Identity on September 7, 1912. Like many Chinese immigrants trying to come over during the Chinese Exclusion Acts, he came over as a son of a native born American citizen, which if true would mean he was immigrating legally.
Seven years later his brother Gong Bow John came over with the papers of Doon Ho, arriving in San Francisco on July 27, 1919 on the SS China. He received his Certificate of Identity on August 29, 1919. His certificate said he was a farmer, in Isleton, California (in the Sacramento River Delta). He also said he was the son of a native.
Ow Luen (Gong Bow Gwun) testified on behalf of his brother, Gong Bow John, Since they had bought papers of unrelated people, they had to pretend they were not related, and Ow Luen said he knew Doon Ho from school, meeting when they were sixteen years old.
For unknown reasons, Doon Ho brought Ow Luen's wife, Lock Shee, as his wife over on a later ship. She arrived on the Persia Maru (ship) on November 22, 1921, and got her Certificate of Identity only eight days later. It is fortunate that she came then, because after July 1, 1924, more restrictive legislation against Asians barred wives of even legally immigrated Asians from arriving in the United States.
Uncle Jack Din provided a lot of family history information in a 1993 interview. Click here to see a 29-page transcript.
The family moved from San Francisco to Merced, where they ran a laundry in the 1920s. By 1925, they had settled in Woodland and ran the Tai Lee Laundry until the 1940s. Later, they moved to Sacramento, where many still remain.
We do have some nice family photos from the 1940s.
Visit the Angel Island Immigration Station Foundation for more information about this part of American history, including the Chinese Exclusion Acts and responses to it.
Early Gong immigration
Two generations before Gong Bow Gwun, Gong Gim Hick came to America, perhaps in the 1870s, from the village of Lok Cheung (Luochang in Mandarin) in the district of Fa Yuen, Guangdong Province. Family oral history says that he worked on the railroad, perhaps in Nevada, according to Aunt Lillian Wong, granddaughter of Gong Gim Hick, which would be consistent with the late historian Him Mark Lai's accounts of immigrants from Fa Yuen (the Cantonese pronunciation; in Mandarin it is Hua Xian) in his book, Becoming Chinese American. Gong Gim Hick was one of a rare number of railroad workers who was able to return to China.
Lai notes, "Oral accounts of Luochang villagers claim that the first group from that village to immigrate to America was several dozen who left during the Guangxu reign era (1874-1908). Most became laborers, but Jiang Qipeng, who arrived during the 1880s, completed a technical curriculum in Portland, Oregon in 1900 and became one of the earliest persons from Hua Xian to have had a college education in America. Other pioneers were said to have worked on the railroad. Based on the period mentioned, some may have worked on Southern Pacific Railroad's San Joaquin Valley lines and the Northern Pacific Railroad (page 147)."
Lai also notes that "the majority [of Hua Xian immigrants] in America came from an area of approximately two to three miles in extent in Huashan Zhen in the central part of the county, including the villages of Luochang, Pingshan...the predominant surnames among the immigrants to America are Jiang (Gong/Kong) and Liu (Lau/Low/Lowe), which comprised about 40 to 50 percent and 20 percent, respectively, of the Hua Xian people in this country during the 1930s (page 146)."
Regarding paper names, Lai notes, "Since the existing pool of Hua Xian immigrants was extremely small, with only a limited number of surnames, the odds were extremely high that an individual's paper surname would not be the same as the individual's real surname. Thus, although many in the Gong clan entered with their real surnames spelled as Gong or Kong, others became variously Chin, Ow, Dun, Don, Jung, Young and so forth...." Note that Ow and Dun (Doon) were purchased by our family.
Contact Grant Din if you have questions or corrections.
How the family name became Din, from the interview with Jack Din
The papers that Pop [birth name Gong Bow Gwun] came under - there was a certificate of immigration or something. But he came under the name Ow Luen - it was strictly a fictitious name or somebody else's papers. And he came over as a single person, and really, supposedly there's no tie-in between us and him. And his brother came under the papers of Doon Ho. And he [his brother] somehow managed to bring Dad's wife, our mother, over as his wife, to bring her over for our pop. So that's where Din came, D-o-o-n H-a-w. Pop started to use that name because here Mom was living with him as his wife, although that was supposed to be his brother's wife. So he in effect started to use his brother's [paper] name.
And then somehow the name got changed to Din, probably because as he started to write it, his English wasn't very good, or else somebody asked him about it. In fact, that's how my name, my last name ended up as "How," H-o-w, because that's the way they possibly interpreted him saying his name, and then they thought that was his last name because the Chinese always put the last name first, and he says my name is Doon Haw, and they ended up putting Din How. The birth certificate or something like that, "o.k. what's your name, and what's your child's name?" And so I ended up being Jack Din How. And so I had to get that officially changed when I was in the service, you know when I went to OCS. That's a mess.
"