Grandparents...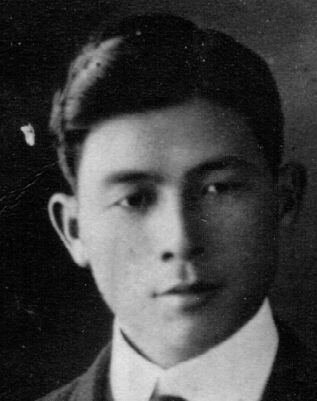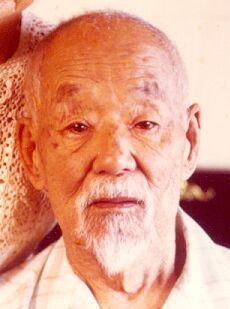 Gengoro & Toyone Tonai
and other Family Bios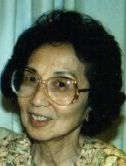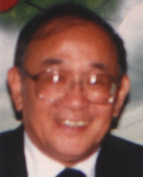 Ricky Ito Taylor Tommy Sue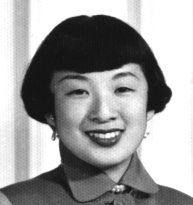 Family Histories
Rosalyn's links
National Japanese American Historical Society
East Bay Asian Local Development Corporation
Grant's links
Link Din at LinkedIn
Angel Island Immigration Station Foundation
Marcus A. Foster Educational Institute
1975 photos of Tule Lake Pilgrimage
National Coalition for APA Community Development
Association of Asian American Yale Alumni
Helpful and Favorite Sites
Visual Thesaurus

Contact Grant Din, webmaster
Tonai "A-files" found

Through the Freedom of Information Act, we have been able to obtain the wartime files for Gengoro Tonai. A produce merchant in San Pedro, California, he was arrested by the FBI on December 7, 1941. The files show an odyssey throughout Department of Justice camps throughout the American west and his only "crime" appeared to have been a donation to an organization that supported Japanese maritime causes. Despite this harsh treatment, Mr. Tonai became a naturalized citizen in 1955. More details to follow.
Owyang family roots
On November 8, 1905, Hoon Owyang (later also known as Owyang Koon Cheung when he got married) disembarked from the SS Empress of China in Vancouver, BC. He took a train to Sumas, Washington, where on November 18, he applied to land in the United States as a Chinese merchant of Yau Lan Moon, Canton. On November 23, he was admitted to the U.S., at the age of 27. The photograph from his Certificate of Merchant status appears above. Find out more here and see the immigration documents here.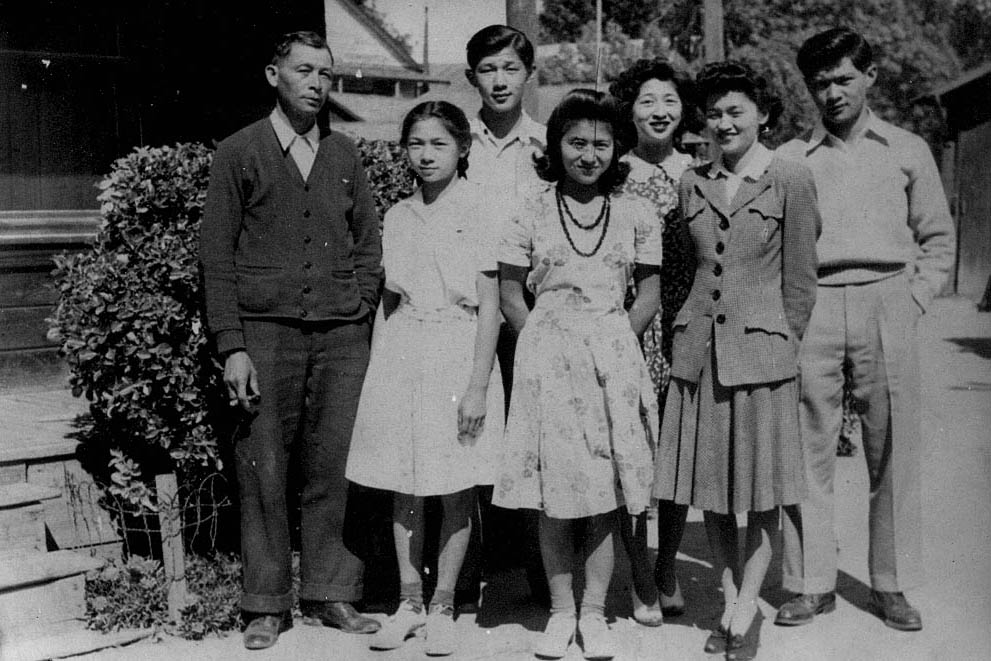 Click on the photo for a larger image of the Hoon Owyang family, taken around 1944.
This project is documenting family histories. In late 2001, we found a great deal of new (to us) materials on the immigration of Hoon Owyang (aka Owyang Koon Cheung) and his wife Gee Chew Lin Owyang (Grant and Carla and cousins' grandparents) at the National Archives center in San Bruno, CA.
Then, through a distant Owyang cousin, we found an amazing book on the genealogy and history of 4,700 years of Owyangs! Click to find out more.
This couplet tells the history of the origins of the Owyang name! Click on it to find what it means!
1975 Tule Lake Photos Unearthed!
Recently, Grant found negatives from the 1975 pilgrimage to Tule Lake. The prints are now on the Tule Lake Committee's website and include photos of what appear to be guard towers and barracks before they collapsed or were torn down.
Celebrating 100 years of the Din family in the United States on August 15, 2012!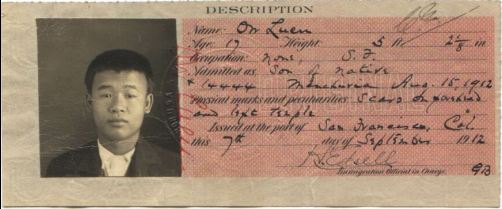 One hundred years ago, Gong Bow Gwun or his family bought papers of a man named Ow Luen in order to come to the United States. Unlike other immigrant groups, Chinese immigrants were restricted by a law called the Chinese Exclusion Act, which was in effect from 1882 to 1943. In June 2012, the House of Representatives joined the Senate in expressing "regret" for this discriminatory legislation.
Ow Luen came over from China on the SS Manchuria, which docked in San Francisco on August 15, 1912. He was questioned by government officials and detained on Angel Island for three weeks, finally receiving his Certificate of Identity on September 7, 1912, allowing him to remain in the United States. Like many Chinese immigrants trying to come over during the Chinese Exclusion Acts, he came over as a son of a native born American citizen, which if true would mean he was immigrating legally In reality, he was a "paper son," claiming he was the son of a US native. To see his immigration papers, scanned from the US National Archives, visit this webpage .
Ow Luen's wife Lock Shee arrived on November 22, 1921, and that's another interesting story (click the link to find out how our family name became Din)! Fortunately, she came over before even more restrictive legislation took effect July 1, 1924, which made it harder for wives of Asian immigrants to come to the U.S.
Later known as Hew and Lock Din, they ran laundries in Merced and then Woodland, California, north of Davis. This is a ticket from their Tai Lee Laundry, which was in operation from the 1920s to 1940s. Click on the image to learn more about the laundry and the family's experiences in Woodland. Click here to see some of Grandmother Lock Din's actual immigration papers . Din is our family's paper name; Grandfather's name in China was Gong Bow Gwun and we have traced Gong ancestry in China over 150 generations back!
Other articles
Shinzen ambassadors report on their Japan cultural exchange in the summer of 2009 (a next generation Tonai Din was in the group)
The 2nd Owyang reunion took place in Oakland on Sunday, October 26, 2008. Please click the link to view a page that has links to photos and videos from the presentations that day.
Louise Owyang, the Amazing Hat Lady, featured in the Montclarion ! Click here for a scan of the photo that appeared, which didn't make it onto the website, and the article. (8/08)

Hokubei Mainichi article on the Shinzen program includes a Gong and a Din! (7/08)
Next Generation Owyangs receive Montera Award ; (6/08)
Jack Din featured in Pocket (Sacramento neighborhood) newsletter! (5/08)
Hoon Owyang's A-file recently arrived from the National Archives (2/08)
Owyang cousins journeyed to our ancestral village! Visit the blog and see the photos. (11/06)
Din laundry featured on Woodland website
Trace 4,200 years of Gong ancestors !
More Family Histories
Itos and Tonais
We also have biographies of Rosalyn's grandmother Kaoru Ito and her father Ichiro, with more information on her mother Grace and other ancestors to follow.